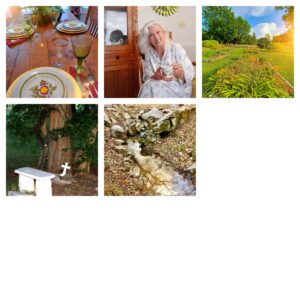 Fabulous Fall, Alluring Autumn, so many ways to love this pending season!
September 23, 2022, is the official arrival of autumn, just around that bend in that muddy country road!
Sage Hill was greeted with an early morning rain-thinking it was past, I'm off for a long walk only to be proven wrong!
However, I was in the right place at the right time for the right reason.
Nothing is more impressive than to be caught in the rain and just like that an old abandoned church.
The message I came away with, no matter how harsh the outside world may be, our Heavenly Father always provides shelter from the storms.
~~
The world, our country, our own backyards, the gardens at Sage Hill….all in transition!
In my world, I will embrace the lessons, and use the gifts of nature to inspire…..
Denounce the evil that lurks to take it all away, Never, forget, we must live in this world, we don't have to conform to the wrongs.
~~
Tablescapes to compliment the season—why not?
Sunday morning coffee is exceptionally good!