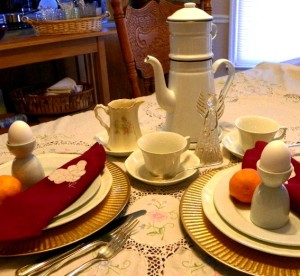 A desire for that which brings comfort, joy, and pleasure, to our heart, mind, and surroundings…to me, is Bliss…it can be as elaborate as the Queens digs are as simple as a cup of tea and a boiled egg…with a few special elements added here and there…some thought tweaking, your favorite music or the quietness of a favorite book.
I am big on bliss from with-in…once we find that…the outer elements will find us.
Need help, need tea, need jewels, need a friend to help you clear the cob-webs….This is your lucky day…I'm available, affordable, and know the way to "Bliss."  NO…I'm not a hooker…LOL…part of finding bliss is being able to laugh in the face of all that which works to bring us down.
www.sagehillgardens.com
https://www.facebook.com/sagehill.farm/
https://www.facebook.com/thevintageweb/