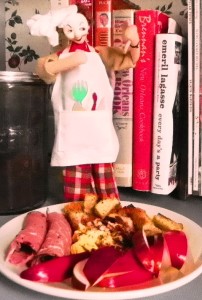 If you are like me, you spend a lot of time in the kitchen…it has been said, the kitchen is the heart of the home…hmmm…certainly if one is hungry, it surely is the place to park.
I spent time in the kitchen today working on a new spread, one that can be used for dipping, tossing into hot broiled shrimp or used on a sandwich in place of mayonnaise.
You will kindly notice I found that pop of Red to light up the dish-and I love apple with everything.
Using crusty French or the last of a Sourdough loaf…cut two cups into cubes…drizzle with a good olive oil (lightly) sprinkle generously with a Cajun blend ( Sage Hill Cajun Blend) toast and set aside.
Blend a half cup of sour cream- (creole mustard, turmeric powder, ginger powder, and cayenne pepper, sea salt and fresh ground black pepper- to taste)
Toss this into a pan of hot grilled shrimp and there's your "Bliss!"
Don't like or want the shrimp ( I know ya'll are out there ?)
Cold Roast beef, the bread cubes, sliced "Red apple" and the dip…still "Blissful," and now you must make a choice. Either way…you win!