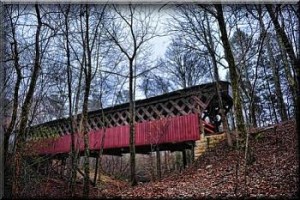 Yes, I'm aware we have been missing…even Bliss needs a break from time to time.
There are times when sharing doesn't fit the feeling…however, I hope you enjoyed your break as much as I have mine.
Things I'm seeing more and more…red sunsets, red clouds, red leaves in the gardens, red colors in the new season for home and self…
You know my passion for red…it never fails to spark a thought, an action, a wish…
There is always a new bridge to cross…if you are lucky…it will be a covered, red one!
Much love~