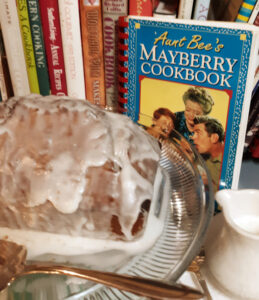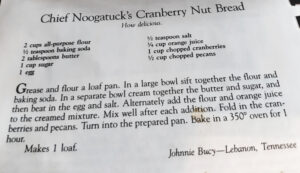 Note the location of the person who shared the recipe for this cookbook.
Lebanon, Tn.
The book was a gift from my son and DIL in 1997…I was nowhere near Tn!
I think that is some kind of irony that 24 years later I chose a recipe from a lady in a town not too far from Sage Hill.
That makes me smile and that's a wrap!
BTW…you can make the recipe a much healthier version by opting for organics, I used Agave in place of white sugar.
Yummy!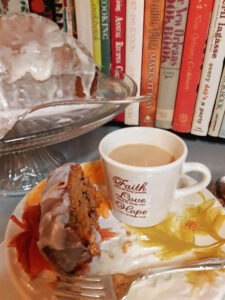 When the candles are lit and the soup bowls are filled,
Delicious aromas waft throughout the house,
We will sit down to a Thanksgiving meal in which a few subtle switches will turn familiar offerings into a delicious feast of new and charming classics.
A turkey basted with a cider/butter mix will sit beautifully browned just begging to be sliced!
Pecan pie with daring and heady molasses instead of sugar…no one will ever guess, but it's not a secret!
Potatoes and Yams roasted with Parsnips bring a new dazzle to the humble root vegetables.
There will be Gumbo…recipe unaltered from many years of perfection! That's OK, some things cannot be improved upon!
Pumpkin soup made and served in and from the said host. ( the pumpkin)
A few delights among others, food for thought over the next few days.
For now…today, Sunday-November 21, an inside day because of cold rain and no desire to venture out…..the kitchen became my target!
~~
Something for breakfast, brunch, or after-dinner treat.
Tis the Season…to be cautious of what we mourn…