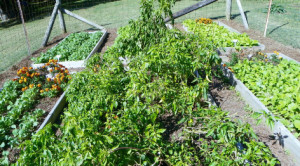 Are you concerned about additives and chemicals in today's food supply?
Looking for healthier eating choices for your family?
Perhaps you need ways to bring more flavor and interest to your cooking.
Or maybe you just want to relax with the perfect cup of tea!
Sage Hill Gardens has all that and more!
Our teas, herbs and seasoning blends are all carefully hand tended and organically grown without chemical pesticides or fertilizers. You can cook and sip with ease knowing that what we ship to you also goes on our own table and that of our children and grandchildren.
Need to know more about preparing great meals? Check out our recipes and cooking tips.
Want to learn about herbs, gardening or sustainable living? Sign up for the Sage Hill Happenings newsletter.
Are you a do-it-yourself type? Then our books, lessons and videos may be just what you need to get your own garden flourishing.