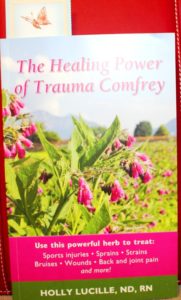 The Stylish Gardner is more about a feeling than a look…
it's about being aware, living with purpose, passion, and intention.
It's about feeling good, so we do look good…
It's about having a reserve of energy and enthusiasm…
It's about finding alternative means to fix small and large issues with out prescription and/or over OTC drugs…
Now we all know the lines drawn between controlled medicine and natures medicine….So…this is where I say, because I must if I wish to keep my neck out of the noose! But also because it makes sense and will in the long-run will save you time and money.
Disclaimer…If you are sick…seek the advice of a qualified health-care provider.
~~
The Healing Power of Trauma Comfrey…this is a small book by Holly Lucille, ND,RN….she is a nationally recognized and licensed practicing naturopathic doctor, natural products consultant and television & radio host.
An acclaimed expert in the field of Integrative medicine. Dr. Holly lectures throughout the nation on a variety of natural health topics.
~
This book will help you address pain of injuries, sprains, strains, bruising, wounds of all kind, back and joint pain…from old or more recent damage.
It can be found in any good Health Food shop or larger book stores.
~~
The product can be found on many online sites…be very cautious who you purchase from…A good product should be between 14 and 20 dollars for a 2.6 oz tube…maybe a little less…too cheap, look carefully at the ingredients.
~~
(From a report given to me by a doctor I use and trust.)
Symphytum is the homeopathic remedy prepared from the common hedgerow plant…comfrey.Taken orally in its homeopathically prepared and diluted form has a strong reputation for helping to heal fractures, especially those that are slow and difficult to unite.
What is less well known is that Symphytum can also help torn muscles,tendons,and ligaments that are slow to heal…it simply promotes "fusion."
Works greatly to promote healing in Achilles tendons and meniscus damage and  collateral ligament tears in the knee..
Also works for vertebral fractures/degeneration of the spine, and for trauma or blows to the eyeball and eye socket.
Boiron Labs is the world leader for Homeopathic products.
My go to for many hard to find products are the Orbit Health Food Shops…
One in Goodlettsville, Tn….One in Mount Juliet, Tn.
~~