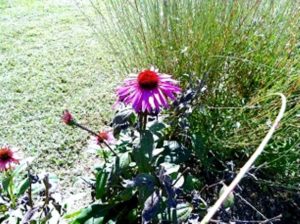 More than a pretty addition in the flower garden…echinacea is native to the USA, where it was a staple among the Native Americans as a medicinal/healing tool.
Modern research has confirmed echinacea's immune -boosting properties and it is extensively used as an antiviral.
The flower petals make a lovely tea, but the medicinal power is found in the root(dried and powdered) containing inulin, polysaccharides, essential oil, resin
plant sterols, and fatty acids. ( proven to increase body resistance to infection.)
Used in the treatment of colds and influenza, as well as more chronic conditions such as glandular fever or ME/post-viral fatigue. It stimulates the production of white blood sells, which fight infection, and is therefore being used as a support for HIV/AIDS.
It is best used as a commercial prepared tincture and should always be sought out and used under the supervision of a qualified herbal/Holistic practitioner.
PS: Among the other colors of the coneflower, the purple purpurea is the only one with medicinal properties.