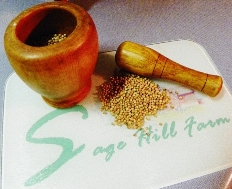 Herbs to build a strong Immune system.
1. Honey
2. St.John's Wort
3. Sage
4. Garlic
5. Shitake and Reishi mushrooms
6. Hyssop
7. Oregano
8. All the warm spices…cinnamon, clove, cayenne pepper, black pepper, Sea salts, cumin,ginger, etc.
Any tea/tisane herb can transformed to medicinal by steeping longer than for tea. (10 minutes at least)
A cup of warm/hot water with 1/2 freshly squeezed lemon juice daily will help balance the pH level of the body.
(Apple Cider Vinegar and 1/3 tsp of baking soda will work also)
Drinking Water is best at room temperature, cold water slows and can stop the digestive process .
Eating In Season is the what our body is designed to function best with.