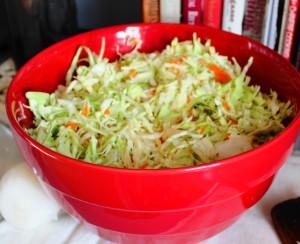 Freezer Cole Slaw???   Yep, that was my thought also…
One might think when one has been farming and cooking for a lifetime, nothing new can possible come their way…that would be me….never, have I heard of Freezer Cole Slaw.
I wish to give thanks to my friend Paulette Williams , for turning me on to and sharing her recipe…I'm totally liking this and so…I'm sharing…thanks for your interest and do give us feedback on your degree of liking…..or not!
~~
Freezer (Friendship) Cole Slaw…
Paulette's recipe is for 2 pounds of cabbage (green or red or mixed)
I chose the green, but will mix it in the next batch.
Enjoy and thank Paulette for being a good food and friendship steward!
~~
2 lbs. cabbage, 1 large green pepper, 3 large carrots and 3/4 cup chopped onion. Shred everything and sprinkle with 1 teaspoon salt. Let stand 1 hour and drain.
Combine 1 teaspoon dry mustard, 1 teaspoon celery see, 1 cup vinegar, 5% acidity, 2 cups sugar and 1/2 cup water. Bring to a boil and boil 3 minutes. Cool and ladle over cabbage mixture. Let stand 5 minutes.
Stir and pack in containers or freezer bags. Pretty simple. I usually double or triple
~~

(BK) Let me assure you, this is very good!!  Will be amazingly delicious after it blends for a few weeks or until winter!