Rosemary (Rosmarinus officinalis) is a symbol of fidelity and remembrance once used in the holiest of Christian ceremonies, the wedding and the funeral. For centuries people thought that the rosemary plant would never grow higher than 6 feet in 33 years so as not to stand taller than Christ. Another story tells that the flowers were originally white, but changed to blue when the Virgin Mary hung her cloak on the bush while fleeing from Herod's soldiers with the Christ child.
~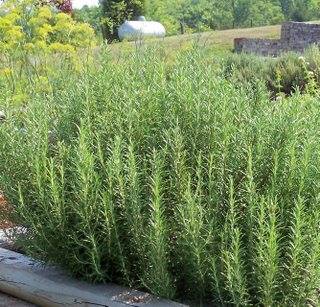 Rosemary also known as Rosmarinus Officinalis is a woody, perennial herb with fragrant, evergreen, needle-like leaves and white, pink, or blue flowers, native to the Mediterranean region. It is a member of the mint family, which includes many other herbs.
The name Rosemary derives from the Latin word "dew" (Ros) and "sea" (marinus) or "dew of the sea". The plant is also known as Anthos the Ancient Greek word meaning flower or wild flower.
Anthos is mentioned 4 times in the Bible. James 1:10-11 and 1 Peter 1:24
But the rich, in that he is made low: because as the flower of the grass he shall pass away. For the sun is no sooner risen with a burning heat, but it withereth the grass, and the flower thereof falleth, and the grace of the fashion of it perisheth: so also shall the rich man fade away in his ways. James 1:10-11
For all flesh is as grass, and all the glory of men as the flower of grass. the grass withereth, and the flower thereof falleth away: 1 Peter 1:24
~
Rosemary is a staple in my kitchen.
There are so many ways to use this herb, from making delicious sauces to grilling on an open pit, it works magic on vegetables, meats, breads and even in drinks and desserts.
Makes a tea that will keep your system flushed and regular.
And, if you just want to enjoy the aroma, cut a few sprigs and either place in a vase of water or simply lay on the counter.
Each time you touch it the aroma will be fresh and heady.
Rosemary has many medicinal benefits, used heavily in all areas of Alternative medicine.
Much research has been completed and still ongoing that documents the major beneficial results with memory and Alzheimer's….
~
I enjoy it in the kitchen especially during the holidays.
Tie a pretty red ribbon on a bunch and use it like cedar.
Toss a few sprigs into a small pot of simmering water with lemon and orange peel to fill your home with a lovely aroma and expand your mind!
~