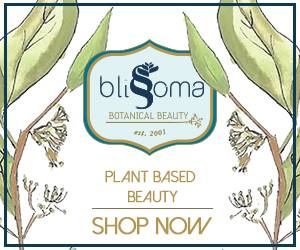 Blissoma is the elegant marriage of herbal form and function, crafted by the exploitative mind of Julie Longyear, an artist enamored with science.
 After years of making do with my own skin care from my own garden….I have finally found a wonderful, organic, all healthy, fruits and vegetables, carefully crafted into a delicious skin care product.
I have opted to be an affiliate for Blissoma…that means I will make a commission when products are purchased through my website…
You also know I never put my seal of approval on anything less than the best…
How much better could this product be….If it's good for the inside, it has to be good for the outside….
Take a tour, the reading is exciting and something you don't find on most labels.
The pricing is really affordable, less than what you will find on chemical laden "high end" big brand cosmetic counters. I like that…A lot!
What makes Blissoma special?
 Blissoma formulations faithfully offer the best medicinal compounds from plants that are research-proven to have healing superpowers for the human body. Ingredients are fresh, stored and combined at optimal temperatures, and blended with skill to offer a final product that is uniquely effective, pleasant to use, and a direct experience with plants as nature created them. Generally the ingredients are just 1 step away from the original plant material from which they came. Many are cold-processed and raw so that no damage is done to heat-sensitive vitamins and other valuable compounds. An initial feel of the products demonstrates the difference as the texture, color, and smell all distinctly tell the story of the nutritive ingredients contained therein. By not changing the botanical's Blissoma offers a big change for your skin.